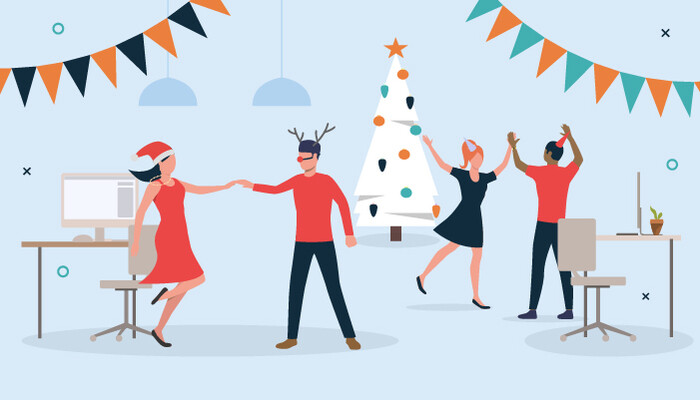 A Christmas party doesn't necessarily have to take place in the weeks leading up to Christmas, and for some employers finding the time to close up shop for the day will be practically impossible, especially after lockdowns have interrupted business operations for almost two years.
So, what can you do when your workers are tired, morale is lacking and a rewarding lunch, dinner, or group activity is needed, but not practicable at this time of year?
Plan for early in the new year
Making promises and not delivering is a surefire way to lower morale, but by booking in a future date for a Christmas lunch now, it will help your staff to realise that talk of their delayed Christmas party is not just lip service. Give your team something to look forward to by setting a date and locking the location in. You could even circulate the menu or propose a theme to enhance the excitement among the group.
Ask for staff input
Seeking input and making your team feel included in the celebration is another way to build rapport and morale. Perhaps instead of a lunch, they would prefer to play mini-golf or organise a day of volunteering for a local charity, but unless you ask you will never know!
If there is enough interest you might like to set up a social committee that can arrange the event and any other social engagements going forward. This committee can be your eyes and ears on the ground so that the workers are being rewarded with team activities that resonate with them directly.
Reward your team in other ways
If you can't schedule a party until a later point in time, you can still show your appreciation for your staff in the interim by offering them some other type of end-of-year reward. Reminding your staff that you value them and are grateful for their efforts can be shown in ways as simple as a bottle of wine or a box of treats, as generous as a cash bonus, or with something in between like a voucher for a massage or theatre tickets so they can enjoy something decadent and relaxing in their leisure time. Verbal feedback or a quick text message commending someone on a job well done will be sure to lift spirits, too.
Make work fun!
It may seem like an oxymoron but if your staff have to work during the holiday period when most others are taking their vacations think of some ways to make the workplace fun. Offer incentives for excellent customer service, introduce a more relaxed or festive dress code, hang Christmas decorations, allow staff to take turns putting on their own playlist, or mix up starting, finishing or break times to allow your employees to complete their Christmas shopping or get to their other engagements.
An employer's responsibilities
Whatever it is that you do in the final weeks of the year (and the first few of the next year), employers must always remember their responsibility to provide a safe working environment to their employees.
Christmas can be a difficult time financially and emotionally for some people and it can also be physically draining, particularly for people in active jobs like hospitality and retail. Be sure to check in on your workers to make sure they are coping and remind them of the support available to them if they need it.
Once the Christmas party date arrives, remember that as an employer you will also remain liable for the safety of staff in attendance. It's a good idea to remind staff of their own responsibilities and obligations prior to the event, including circulating policies related to drugs and alcohol, social media, and bullying and harassment.